me
nu
Appetizers (Non-Vegetarian)
All appetizers are served with mint and tamarind chutney
Assorted Appetizers
Seekh Kabab, Vegatable Pakora, Vegetable Samosa, Chicken Pakora, Onion Bhaji
$9.95
Chilli Chicken
Delicious spicy chicken with green chillies and special sauce
$15.95
Chicken Pakora
Delicately spiced chicken fritters
$6.95
Keema Samosa
Deep fried patties stuffed with spiced ground meat
$6.95
Chatpata Chicken
Crispy chicken with onions, and chefs special sauce
$11.95
Chicken Chat
Small pieces of white chicken mixed with tomato, bell pepper, onion and sprinkled with black salt, lemon juice, and special Chat Masala
$6.95
Fish Pakora
Delicately spiced fried fish fritters
$9.95
Appetizers (Vegetarian)
Vegetable Samosa
Deep fried patties stuffed with spicy potatoes & green peas
$3.95
Vegetable Pakora
Freshly seasoned vegetable fritters
$5.95
Onion Bhaji
Freshly diced onions mixed with flour and deep fried
$5.95
Veggie Springroll
--
$5.95
Aloo Tikki
Deep fried mashed potatoes served with Chef's Special spices
$5.95
Assorted Vegetable Fritters
Samosa, pakora, and onion bhaji platter
$8.95
Cheese Pakoras
Delicately spiced cheese fritters
$6.95
Bhel Puree
Puffed rice with crunch flour mixed with tomato, onion, potato & garnished with sweet & mint sauce
$5.95
Hara Bhara Kabab
Veggie Patty made with spinach, potatoes & green peas, topped with a garlic spinach creamy sauce
$12.95
Paneer Tikka (Cheese)
Marinated homemade style cheese sauteed in a clay oven with bell peppers, tomatoes and onions.
$12.95
Gobi Manchurian
Fried cauliflower in an Indo-chinese style mixed with chef's tangy and spicy sauces
$12.95
Tawa Aloo
Pan roasted potatoes with Indian masalas served
$12.95
Tawa Mushroom
Sauteed mushroom with onion, tomatoes and bell pepper
$12.95
Veggie Manchurian
Veggie patty with cheese in an Indo-Chinese style with chef's tangy and spicy sauces.
$12.95
Veggie Chaat
Mashed veggie samosa served with Chef's special ingredient, chana, yogurt and chutney
$6.95
Veggie Bullets
Potato fingers stuffed with corn and peas, served with a sweet chilli sauce
$5.95
Peanut Salad
Lightly spiced and salted peanuts with onions, tomatoes and cilantro
$5.95
Soup
Lentil Soup
Lentil soup mildly spiced
$2.95
Bombay Chicken Soup
Tomato soup cooked with shredded chicken, herbs & mildly spiced
$3.95
Muligatawany
Delicately spiced lentil soup garnished with rice & chicken
$3.95
Jain Delicacies
$12.95
All of the following are made without the use of onions and garlic for religious purposes. For a variety of regular Vegetarian items, refer to the Vegetarian Curries section.
Shahi Paneer
Bhindi Masala
Mattar Paneer
Chana Masala
Paneer Bhurji
Yellow Daal
Malai Paneer
Panner Tikka (Cheese)
Methi Matar Malai
Tawa Mushroom
Combination Dinners
All entrees served with rice, pappadam (crispy wafer), tamarind and mint chutney. We spice to your taste: Mild, Medium or Hot.
Mixed Tandoori Grill
An assortment of Tandoori Chicken, Seekh Kabab, Chicken Tikk, Fish tikka served in sizzler on a bed of onions with naan and rice. Gulab Jamun
$19.95 / person
India Special
Chicken Tikka, Lamb or Chicken Curry, Sag Paneer, Raita, Rice, Naan (Bread), Gulab Jamun
$19.95 / person
Vegetarian Thali
Pakora, Daal Makhni, Vegetable Korma, Rice, Raita, Naan, Gulab Jamun
$15.95 / person
restaurant
hours
Monday-Friday
Lunch Buffet: 11:00am - 3:00pm
Dinner From the Menu: 5:00pm - 10:00pm
Saturday - Sunday
Lunch Buffet: 11:00am - 3:30pm
Dinner From the Menu: 5:00pm - 10:00pm
contact
us
Address
17824 Pioneer Blvd Artesia, CA 90701
Tel
(562) 860-5621
Fax
(562) 860-3681
Email
gift
certificates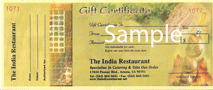 Available for gifts for any occasion