about
the india restaurant
The India Restaurant was established in 1985 in the city of Artesia, California in the Ziba Plaza. Fresh, contemporary and consistently outstanding are the trademarks of The India Restaurant.
We have a unique combination of Indian cuisine, attentive service, wine, and tempting desserts all served in a stylish, high-energy formal dining area. Our guests can select from our extensive menu of Indian cuisine while enjoying the delightful surroundings. At The India Restaurant, we are committed to providing our guests with an exceptional dining experience every time they walk through our doors. Whether creating custom dishes, guiding guests through the menu or suggesting dishes to enhance your meal, our friendly, knowledgeable service staff and attention to detail are a winning combination.
We only use the finest Indian spices, and we can customize the taste to mild, medium, and hot of each dish for all of customers. Our menu contains non-vegetarian and vegetarian dishes. We provide domestic beer, imported beer, non-alcoholic beer, mango lassie and an extensive wine selection. We also offer a lunch buffet everyday (11:00 a.m. to 3:00 p.m.) & catering services for parties. We invite you to feast your body and soul at our restaurant and experience ethnic Indian cuisine. For more information,
call us at (562) 860-5621.
restaurant
hours
Monday-Friday
Lunch Buffet: 11:00am - 3:00pm
Dinner From the Menu: 5:00pm - 10:00pm
Saturday - Sunday
Lunch Buffet: 11:00am - 3:30pm
Dinner From the Menu: 5:00pm - 10:00pm
contact
us
Address
17824 Pioneer Blvd Artesia, CA 90701
Tel
(562) 860-5621
Fax
(562) 860-3681
Email
gift
certificates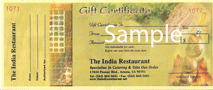 Available for gifts for any occasion